Balloons Over Waikato kicks off on 22 March with mass ascension.
The cloud and drizzle eventually cleared for a blue-sky take-off at Hamilton Lake during the opening morning of the Balloons Over Waikato festival.
Five special shapes, including an alien rocket, copter boy and a "big hug", along with 18 more balloons, took off from Hamilton's Innes Common a little later than planned, just after 8am.
A pilot briefing was held at 6.30am when the decision was made to fly.
Before the balloons got airborne, drizzle and dark clouds covered the area, but it didn't stop the more than 10000 people who rugged up to get a close look as the pilots inflated their craft.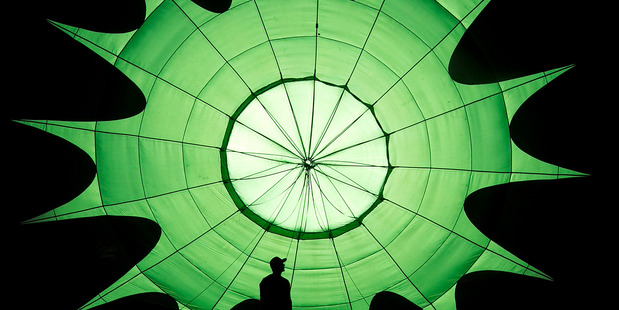 Friends Rebecca Weerasinghe and Toni Verner took their kids down, as they have done every year for at least the past six years.
Weerasinghe said it was a favourite event on the family calendar as all the children loved seeing the special shapes.
Her son, Joshua, 10, was hoping Darth Vader would make a reappearance after being told he featured in 2008.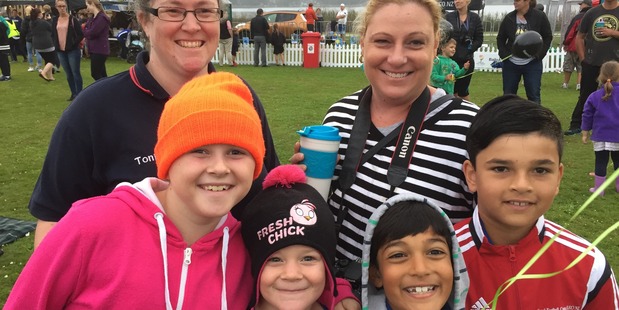 However, he and brother Gabriel, almost 8, along with friends Sarah Verner, 10, Kate Verner, 8, and James Verner, 6, were most excited to see Robbie for Ronald McDonald House - the festival's largest balloon, measuring 40m high and weighing 454kg.
Justine and David Edwards brought their children Giana, 9, Kadence, 5, and Robbie, 4, down again.
Justine Edwards said they were also regulars and this year decided not to learn what the special shapes were going to be.
Standing in front of the Copter Boy and Big Hug balloons as they were being inflated, the children thought they were standing in front of an elephant and spiderman, and were likely to get a surprise once they got in the air.
Vilagrad Winery co-owner Jacob Nooyen has been another regular, attending every festival since he and partner, Aimee's, children were babies.
He said their favourite part of the week is Saturday's Nightglow. Not only do about 40,000 people flock to Waikato University, but he and his brothers are on stage with their The 3 Brothers Band, opening for The Jordan Luck Band.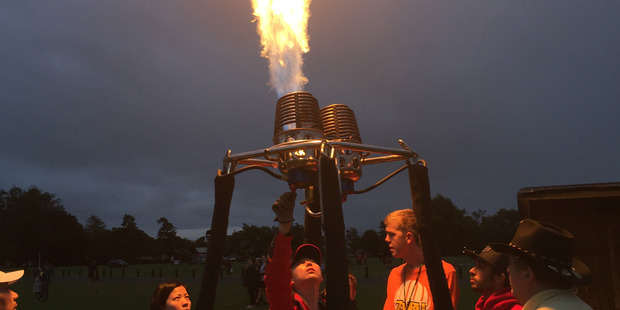 Wietske Poot-Valstar, originally from Holland but living in France, has seen the balloons in the sky before but it was her first time watching them inflate.
Organiser Michele Connell said the balloons would head towards Claudelands where the pilots will drop bags of sand onto a cross on the grass.
The pilot whose sandbag lands the closest will get $1000.
Connell said this afternoon's balloon flight would depend on the weather and the wind.
Tomorrow is the Wel Energy Trust Breakfast at Dawn, also held at Innes Common, which will see the balloons inflate while a free breakfast is served.