The Perry Bridge was opened to more than 1000 cyclists and pedestrians on November 2.
Simon Perry of Te Awa River Ride, Mayor Allan Sanson of the Waikato District Council and Parekawhia McLean of the NZ Transport Agency opened the section, which allows cyclists to travel from Ngaruawahia to Hamilton Gardens.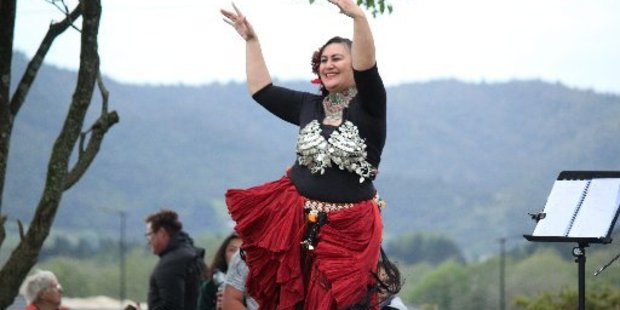 The trail between the Ngaruawahia Golf Club and the Horotiu Bridge creates an uninterrupted 25km cycle path linking Ngaruawahia with the southern end of Hamilton City. The project was initiated by the Te Awa River Ride Charitable Trust in 2010 and this northern section has been funded by the NZ Transport Agency, Waikato District Council and more than a dozen community funders.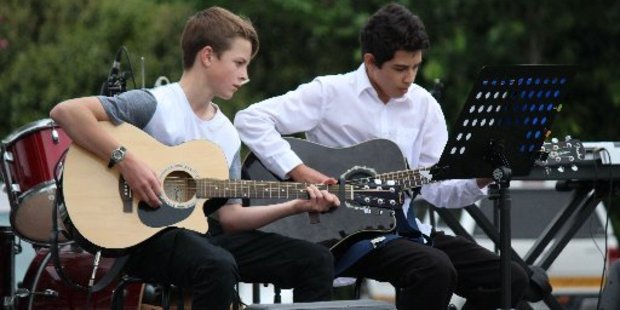 Megan Eastwell, who was on holiday from England to visit family in Hamilton, had heard about the opening on Facebook and took the opportunity to witness history being made.
"To have a cycleway run across the river is beautiful and provides a nice backdrop to the trail," Ms Eastwell said.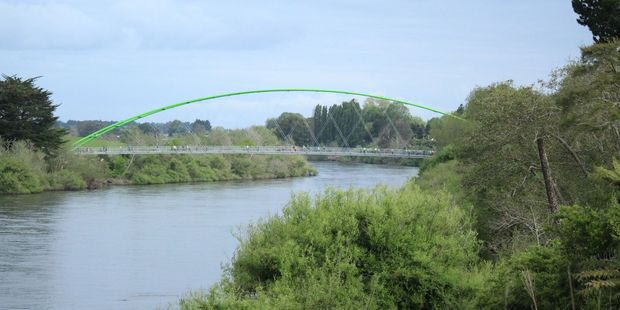 "It provides another alternative than just driving your car and "Hamilton isn't that far away anyway. It may take a bit longer but I think there will be a lot of benefits to riding rather than driving."
Peter Lulu, a resident of Ngaruawahia, said the turn-out was pretty amazing, considering how small the community is.
"I didn't expect to have that many people from what I saw on opening day," Mr Lulu said.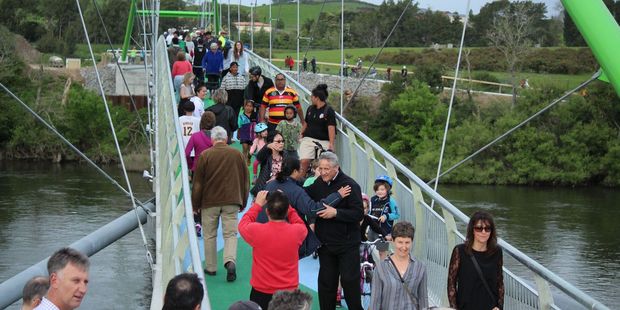 "Having the path between Hamilton and Ngaruawahia where people can bike or walk without any major dangers is great, especially when bikers shared roads that had speed limits of 80 to 100 km/h.
Students from schools either side of the river have designed and produced mosaics to sit alongside the landmark structure.
Students from Ngaruawahia High School and Horotiu Primary School, guided by Ngaruawahia artist Tracy Huirama-Osborne, have spent several months developing the artwork.
It will be installed before the end of this year.
The schools also took part in the opening ceremony, with Ngaruawahia's school band welcoming the crowd to the golf course while two young performers from Melville High School and Rototuna High School also performed on stage.
Te Awa River Ride general manager Jennifer Palmer was thrilled with the opening of the section and Perry Bridge.
"This is a great example of what can be achieved by combining an amazing vision with strong partnerships and a supportive community," Ms Palmer said. NZ Transport Agency Central North Island regional relationships director Parekawhia McLean said the cycleway will ease congestion off the road, among other benefits.
"This link will provide commuters in the north Waikato surrounds, especially those in close proximity to Hamilton, a path to cycle to work and to events, easing congestion, pollution, and enabling exercise to be integrated into their daily lives," Ms McLean said.
When complete, Te Awa will be a 70km shared cycle/walkway along the Waikato River, between Ngaruawahia and Horahora.